Autumn '22 TBR
This summer I had a really fun time reading on theme for the season and I am hoping to continue theme reading into the fall. We are already most of the way through September, but I still thought it would be fun to post my reading plans for the Autumn season. When I think of Autumn reading, I mainly think of Horror, Dark Academia, and Mystery/Thriller. I am not sure if I will be able to get to all of these because I also have some book club and book of the month books I need to read. However, I narrowed these books down to the ones I have that I think will be really fun to read for the Fall time.




The Hacienda by Isabel Cañas 
During the overthrow of the Mexican government, Beatriz's father was executed and her home destroyed. When handsome Don Rodolfo Solórzano proposes, Beatriz ignores the rumors surrounding his first wife's sudden demise, choosing instead to seize the security that his estate in the countryside provides. But Hacienda San Isidro is not the sanctuary she imagined. When Rodolfo returns to work in the capital, visions and voices invade Beatriz's sleep. Rodolfo's sister, Juana, scoffs at Beatriz's fears—but why does she refuse to enter the house at night? What really happened to Rodolfo's first wife? Desperate for help, she clings to the young priest, Padre Andrés, as an ally. Andrés will have to rely on his skills as a witch to fight off the malevolent presence haunting the hacienda.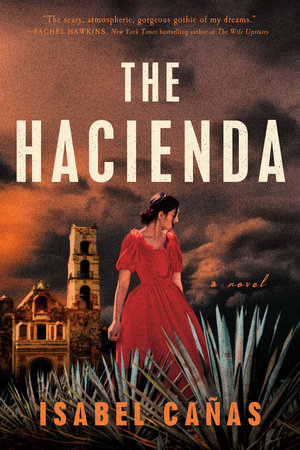 Tripping Arcadia by Kit Mayquist
Lena has dropped out of Med School and is looking for a job to help out her family. She starts working for one of Boston's most elite families, the illustrious and secretive Verdeaus, During the day she assists the family doctor and his patient, Jonathan, the family's heir. By night, she discovers the more sinister side of the family, cleaning up after their parties. However, she learns some information about the Verdeaus that leads her on a quest for revenge. I haven't heard the best reviews for this book, so I am a little nervous to read it. However, it does sound interesting and mysterious to me so I am still excited!
If We Were Villians by M.L. Rio
Oliver Marks has been released following 10 years of prison for murder and is greeted by Detective Colborne, who wants to know what really happened. This book then goes back to when Oliver was in a troupe of actors studying Shakespeare, when one of them turns up dead.
Cackle by Rachel Harrison
Annie is a teacher who has recently moved to a small picturesque town in upstate New York. She soon becomes friends with Sophie, who tries to inspire her to stop apologizing. However, there seems to be something suspicious about Sophie …but she couldn't be…could she?
Mexican Gothic by Silvia Moreno-Garcia
Noemí receives a frantic letter from her cousin, begging her to save her and Noemí heads to High Place, a distant house in the Mexican countryside. Rescuing people is far outside Noemí's comfort zone of debutante balls. While staying at the house, she begins to have dreams with visions of blood and doom. She forms an alliance with the family's youngest son, but he seems to be hiding dark knowledge of the family's past. However, she begins to uncover the family's secrets.
In My Dreams I Hold A Knife by Ashley Winstead
It is the 10 year reunion at southern, elite Duquette University and Jessica Miller has planned her triumphant return. She will be reunited with her six closest friends from school, but their group fell apart following Heather's murder. Someone is determined to trap the murderer and make them pay. When the friends are reunited, they must relive that night and expose all the secrets they've fought to keep hidden.
House Of Hollow by Krystal Sutherland
Something happened to Iris Hollow and her two older sisters when they were children, something that left identical scars on the base of their throats. But, things start to get strange when her oldest sister goes missing, horned men start following her, a corpse falls out of her sister's ceiling, and she begins to remember what happened in her childhood. She discovers that the only way to save her sister is to uncover what happened during their childhood.
A Lesson In Vengeance by Victoria Lee 
Felicity Morrow has returned to the Dalloway School, which she had called home until the tragic death of her girlfriend. She even has her old room back in the exclusive dormitory rumored to be haunted by the spirits of five Dalloway students, some even say they were witches. The Dalloway Five all died mysteriously, one after another, right on school grounds. The girls of the school secretly convene to talk about the school's hidden history of witchcraft. Felicity feels pulled toward a new girl at school, prodigy novelist, Ellis. So when Ellis asks Felicity to help her research the Dalloway Five for her second book, Felicity can't say no. But, history begins to repeat itself and Felicity must confront the darkness.
Our Crooked Hearts by Melissa Albert
On the way home from a party, Ivy and her soon-to-be ex nearly run over a nude young woman standing in the middle of the road. From there, she encounters a string of increasingly eerie events and offerings. Most unsettling of all, corroded recollections of Ivy and her enigmatic mother's past resurface, with the help of the boy next door. Is there more to her mother than meets the eye? What if the supernatural forces she messed with during her own teen years have come back to haunt them both?
Anatomy: A Love Story by Dana Schwartz 
Hazel Sinnett is a lady who wants to be a surgeon. She has a chance encounter with Jack Currer, a resurrection man. When Hazel gets kicked out of renowned surgeon Dr. Beecham's lectures for being the wrong gender, she realizes that her new acquaintance might be more helpful than she first thought. She has made a deal with Dr. Beecham, if she can pass the medical examination on her own, he will allow her to continue her medical career. However, she will need more than just books to pass the exam, she will need to study corpses. Lucky that she's made the acquaintance of someone who digs them up for a living, then. But, Jack has problems of his own and they must work together to unbury not just the secrets in the graves, but those at the heart of Edinburgh society.
The House on Needless Street by Catriona Ward
I picked up this book because I heard it is very scary and I think it will be a good one to read around Halloween. I don't want to know very much going into the book, but here is the synopsis I found:
In a boarded-up house on a dead-end street at the edge of the wild Washington woods lives a family of three.
A teenage girl who isn't allowed outside, not after last time.
A man who drinks alone in front of his TV, trying to ignore the gaps in his memory.
And a house cat who loves napping and reading the Bible.
An unspeakable secret binds them together, but when a new neighbor moves in next door, what is buried out among the birch trees may come back to haunt them all.
Practical Magic by Alice Hoffman
For over two hundred years, the Owens women have been blamed for everything that has gone wrong in their Massachusetts town. Gillian and Sally were forever outsiders, taunted, talked about, pointed at. Their elderly aunts almost seemed to encourage the whispers of witchery, with their musty house and their exotic concoctions and their crowd of black cats. All Gillian and Sally wanted was to escape. But the bonds they share will bring them back—almost as if by magic…
The Inheritance of Orquídea Divina by Zoraida Córdova 
When Orquídea Divina invites her family members to her funeral and to collect their inheritance, they hope to learn the secrets she has held onto throughout her life. Instead, they are left with more questions than answers. Seven years later, her gifts have granted unexpected blessings. But soon, they begin to be picked off one by one. Determined to discover the truth and save their family, the four descendants travel to Ecuador, the place where Orquídea buried her secrets.
Those are all the books I am hoping to get to this Fall that will give me all the spooky, cozy vibes. If I am able to do some fall-themed read-a-thons, I will also be posting about those on the blog and on my Instagram. Please comment below with more recommendations for Autumn books!