Book of the Month Unboxing: March 2022
I am really excited to share my book of the month unboxing for March 2022 with you guys. I have had a subscription to BOTM on and off for a while now and I really love the concept of it. Each month you get a choice of newly released books. Previously you could choose between 5 books or if none of those sound interesting to you, you can choose between a wide selection of books that were available previous months. But, they also just announced this month that you will no longer be limited to 5 books and this month, you could choose between 7 newly released books. This post isn't sponsored (I wish), but you can use my referral link and code PICKMEUP to get your first book for $9.99. Without further ado, let's get into the books for this month.
1. The Book of Cold Cases by Simone St. James
This book follows Shea Collins in 2017, who is a receptionist at a doctor's office and runs a true crime website, The Book of Cold Cases. She uses this website as a means of coping with a traumatic event from her past, which I am guessing will be unfolded throughout the book. When one of the alleged murderers, Beth, enters the doctor's office one day, Shea is able to interview her and gets the chance to solve the infamous Lady Killer murders in Oregon.
Meanwhile, the story also follows Beth Greer, a wealthy woman who was accused of killing two men in the late 70's. Based on the synopsis, it seems that Beth is living in a haunted mansion. However, Shea continues meeting Beth at her mansion to interview her despite feeling something is not quite right. After reading the synopsis of this book again, I am sad I didn't choose this one because it sounds very creepy and like a book I wouldn't be able to set down. I am also intrigued because it takes place in my home state of Oregon. So, although I didn't choose this as my book for this month, I am sure I will pick it up at some point.

2. The Cartographers by Peng Shepherd
The synopsis of this book gives me strong Indiana Jones vibes. The Cartographers follows Nell after the suspicious death of her father in a New York library. Both her and her father have worked as cartographers. In fact, they worked together until her father fired her over a disagreement about a gas station highway map. After his death, this same map is found hidden away in his desk. Nell decides to investigate and finds out this map is exceedingly rare and valuable. A mysterious collector has actually been hunting down these maps and destroying them. Nell embarks on a journey to discover the true power of this map and learns some family secrets along the way. This is actually the book I picked up for this month and I am really excited to start reading it. I will let you know what I think!
3. The Verifiers by Jane Pek
This one is a debut, which BOTM strongly focuses on and encourages people to pick up. I think you actually get some sort of reward after you pick up 3 debut books. The Verifiers is about Claudia Lin, an amateur sleuth who works for a dating detective agency in New York City (I'm thinking she is investigating whether people are being catfished or cheated on). However, one day a client who has an unusual request goes missing. This book is also about how Claudia has no interest in meeting her family's expectations of finding a traditional job or husband and all the secrets she keeps from them. I'm very intrigued by this book as well and look forward to seeing what others think of it to decide if I should pick it up.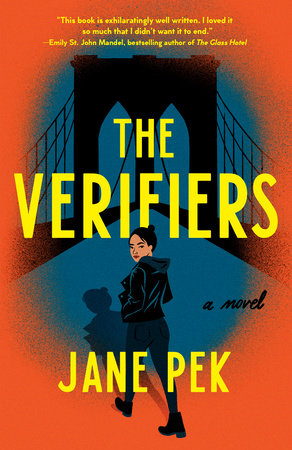 4. The Unsinkable Greta James by Jennifer E. Smith
Greta James is an indie musician who has given up her career after she had a meltdown during her last performance. After the tragic death of her mother, Greta's brother ends up roping her into going on an Alaskan cruise with her estranged father. This cruise was meant to be a trip for her parents for their wedding anniversary. Greta and her father begin to heal their relationship and she begins to gain back her confidence as well as possibly find love aboard the ship. I actually just recently watched a movie, Like Father, which is also about a woman who ends up going on a cruise with her estranged father. I think that's why I wasn't interested in picking up this book, although I am seeing it a lot on bookstagram, so it may end up being a really good read.





5. Dating Dr. Dil by Nisha Sharma
Dating Dr. Dil is a romantic comedy following Kareena Mann who is looking for her soulmate. On her 30th birthday, she decides to enter the dating arena. Her father has announced that he is retiring and planning to sell the house. But, Kareena makes a deal with her father that if she is able to find a soulmate before his retirement party, he will gift her the house. Upon meeting with Dr. Prem Verma, host of the Dr. Dil Show, they have a heated debate on love that goes viral. Dr. Prem's image goes downhill and his only option is to date Kareena to save his image.
I don't like to be mean when it comes to books, but this was the only book that I found myself really not interested in. Already, I am not much of a romance fan in general. However, I really don't like the premise of this book either. For some reason, I don't like the idea of dating a doctor and how they are perceived as the ultimate "catch." Also, I disliked the premise even more when I read the synopsis of this book. Why does she need to find a man in order to own a house? There must be more to that storyline, right? I have a lot of opinions that I could go into, but that is just my reaction without actually reading the book. Who knows, there could be more to it and it could be completely different than what I think.

6. The Paris Apartment by Lucy Foley
I think this book is spooky Emily in Paris? It sounds good! If you saw my book thrift haul, you saw that I just recently got The Hunting Party by Lucy Foley, so if I like that one I will definitely pick this one up because I am seeing it all over goodreads. The Paris Apartment is about Jess, who just left her job and moves in with her brother in Paris. But, when she shows up at his apartment, he is nowhere to be found. She starts to investigate his life there and talking to the eclectic group of neighbors. Very short synopsis, but I am intrigued.

7. Tell Me Everything: The Story of a Private Investigation by Erika Krouse
This book sounds very emotionally heavy. It is a memoir/true crime story about a landmark sexual assault investigation and the female private investigator who cracked the case, Erika Krouse. Erika just accepted a job as a private investigator, but quickly realizes she doesn't know what she is doing. She is assigned a case regarding the sexual assault of a college student carried out by a group of football players. Erika has her own history with sexual violence, but is inspired by her boss to help change things forever. The book takes place over the course of five years in which Erika learns everything she can about becoming a P.I. and investigates this case.

I hope you enjoyed finding out which books are available for the March 2022 Book of the Month. I would love to hear which book you decided to pick up or whether you have already read any of these books. That will definitely help me determine if I need to pick up any more of these! Thank you for reading and I hope you have a great day!